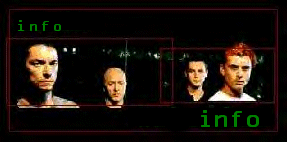 ---
Information about the Bush Positive Community Online, our mission, and more.
Please note that this page is still under construction.
---
Bush Positive Community -Online
Supporters of a Bush Positive, Fan-Friendly, Online Community
There are loads of BUSH 'zines & websites on the web- too many to count. Unfortunately, in the online BUSH community, many of these 'zines have focused not on the band or the fans, but on how many subcribers they have and how popular there 'zine or website is or can be.
About a year and a half ago, a brilliant BUSH 'zine called Suburban Suicide shut down due to the competition felt between 'zines. The event had proved that it was time to stop the competing and start cooperating.
Here's the deal: three BUSH 'zines have come together to make a promise to be competition-free and Bush Positive.
--
They are:
*B*U*B*B*L*E*S*, P E R S O N AL Z E N, ScReAmInG dAiSiEs
These 'zines are the original supporters of this BUSH positive, fan friendly online community.
-
Please note: MACHINEHEADS and The Mouth-Off Weekly Digest 'zines are no longer active but were original supporters.
---
Any zine, website, mailing list, or fan can join the Bush Positive Community Online as long as, of course, they are Bush positive.
What is Bush Positivity?
>Respecting Bush and their fans for who they are.<
The entry must have been made out of a fan's heart, not some commercial giant.
The true answer to Bush Positivity, however, lies with Bush. These are only theories.
---
How can I join?
Click here.